We are excited about Episode 3 of the AtlantaGrubber podcast. Please subscribe to us wherever you get your podcasts as we are everywhere now. The featured restaurant is O4W Pizza, which has gotten national recognition and has been listed on "Best Pizza in America" lists many times. It's located in the exploding synergistic Parson's Alley in Duluth, GA.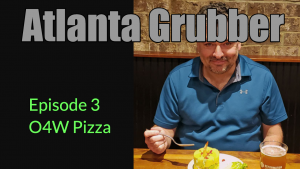 Our uber popular Sound Bites–quick hitters talks about Yeah! Burger in Midtown, another of our favorite eateries near GA Tech. We also compare it favorably to Moxie Burger, perhaps the OTP counterpart. Joe Duffy also noshes at veteran-owned Catfish Hox, a really good casual joint in May-Retta.
Great news for barbecue hounds as Brian Keenan of Meating Street Barbecue fame is back with Keenan's Pit Bar-B-Cue with catering, pop-ups, and home deliveries of some of the best, if not the best barbecue in the state.
After dining with the great Mara Davis at Little Rey, she recommended I bring back the family some Grana from the part of Midtown I worked at for my first several years as a southerner. Onward to Kennesaw and The Rotisserie Shop, a place who does the namesake dish as well as anyone.
Turns out Ball Ground is a great place to visit. Some good eats are at the Ball Ground Burger Bus. We plan to return to Ball Ground and explain why. Kool Runnings Jamaican Restaurant, a black-owned restaurant in Peachtree Corners is another place that deserves more publicity.
Follow Atlanta Grubber on social media: Facebook, Twitter, and Instagram.
Get gift cards with Bitcoin. Amazon, Target, Walmart; most of your favorite retailers and online destinations are likely available.
Please like, subscribe, and comment on the official dad jokes YouTube channel. Great scented wax, scents for you home, car, office and warmers at DuffyScents.com. These great smelling scents are ideal for pet owners.
DuffyGifts.com the place to go for gifts for all occasions from MyThirtyOne Gifts.
Podcast: Play in new window | Download